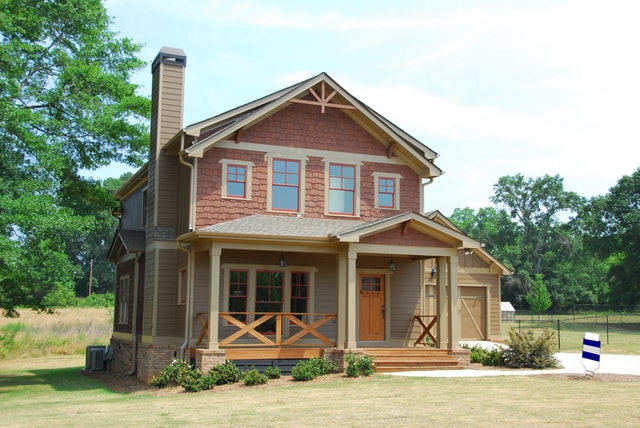 It's no secret that we're in the midst of a hot seller's real estate market. That means that good homes are going fast, usually at or above list price. This is largely the result of low inventory, where good homes are scarce, keeping competition for them – and listing prices – high.
Bottom line: If you've been thinking about selling your home, there's no time like the present. But before you put your home on the market, it pays to put some work into it to make it more attractive to potential buyers – and while it's the interior that often leads to the eventual offer, it's the exterior that first has to hook the potential buyer and capture their interest.
With that said, here's a look at five simple, inexpensive ways you can boost your home's curb appeal:
Paint The Front Door
Being that the front door is often the first thing that people see when accessing your property, painting it in a bold color can really help make it stand out. Just be sure that the color complements the house facade and doesn't clash with it.
Pressure Wash Your Siding/Brick
Siding, especially siding that is light in color, can get dirty over time. What's more is that it can often bleed its color onto any brick that is located below it. The good news is that for about $50 you can rent a pressure washer and give your siding and brick a good thorough cleaning. You may be surprised at how nice it looks afterwards.
Upgrade Your Mailbox
While the mailbox may seem like a big project, you can actually purchase a nice new one for only about $20. So if your home's current mailbox is rusted, dented or just doesn't complement the overall look of the house, buying and installing a new one certainly won't break the bank.
Flower Boxes
Is your front porch a little bland and in need of some color? If so, then flower boxes are a great way to do it. Put these in the windows or along the bottom of the front porch, and be sure to pick out some flowers that really pack some oomph when it comes to noticing and appreciating the house.
New House Numbers
A nice house number won't just make it easier for potential buyers to find your home, but if it's done the right way it can greatly enhance its exterior. There are many different finishes and styles you can choose from for this, and they're all fairly inexpensive.
For more information on some affordable ways to give your home a boost in curb appeal, contact your real estate agent today.